Weekday Urban Sketchers Catch the Skyline at Sunset
And a Jazz Concert
One thing New Jersey has that New York doesn't is the view of the skyline across the Hudson River. And one of the best places to see this is from the waterfront in Jersey City. When the sun sets in the west all the glass in the buildings reflect the beautiful colors turning the skyline pink, making it a wonderful time to capture the sight in a sketch or a photo.
The added benefit this week is a free Jazz Concert starring Wynton Marsalis and the New Jersey City University's (NJCU) Alumni Jazz Band. Little known fact: NJCU's music program is fantastic. The graduates of the jazz program go on to great things and come back to support the place that launched them.
Join us this Thursday in the late afternoon to sketch the skyline and then the jazz band, the crowd, and the views of the Jersey City skyline as well. Bring some snacks (maybe some wine), listen to the music and enjoy a wonderful evening along the river. Bring a friend or your spouse. It is a good time to invite a non-sketcher to join you for the evening.
DATE: Thursday September 10, 2015
TIME: Meet at 5:00 PM for some sketch time before the concert at 6:30 PM. Concert ends around 8:30 PM.
LOCATION: J. Owen Grundy Pier at Exchange Place in Jersey City
TRANSPORTATION: Take any subway to the World Trade Center then take the PATH one stop from the World Trade Center to Exchange Place. The pier is right at the PATH station. (OK New Yorkers, we are talking about a 3 minute subway ride, one stop, to NJ....you can even use your MetroCard in the turnstile....and it is cheaper than the NYC Subway!)
ALTERNATIVE TRANSPORTATION: Take the ferry from World Financial Center to Paulus Hook right across the river. Walk north along the river for two blocks to the Grundy Pier. The ferry is more expensive than the PATH but the views are great.
View of Manhattan from Jersey City waterfront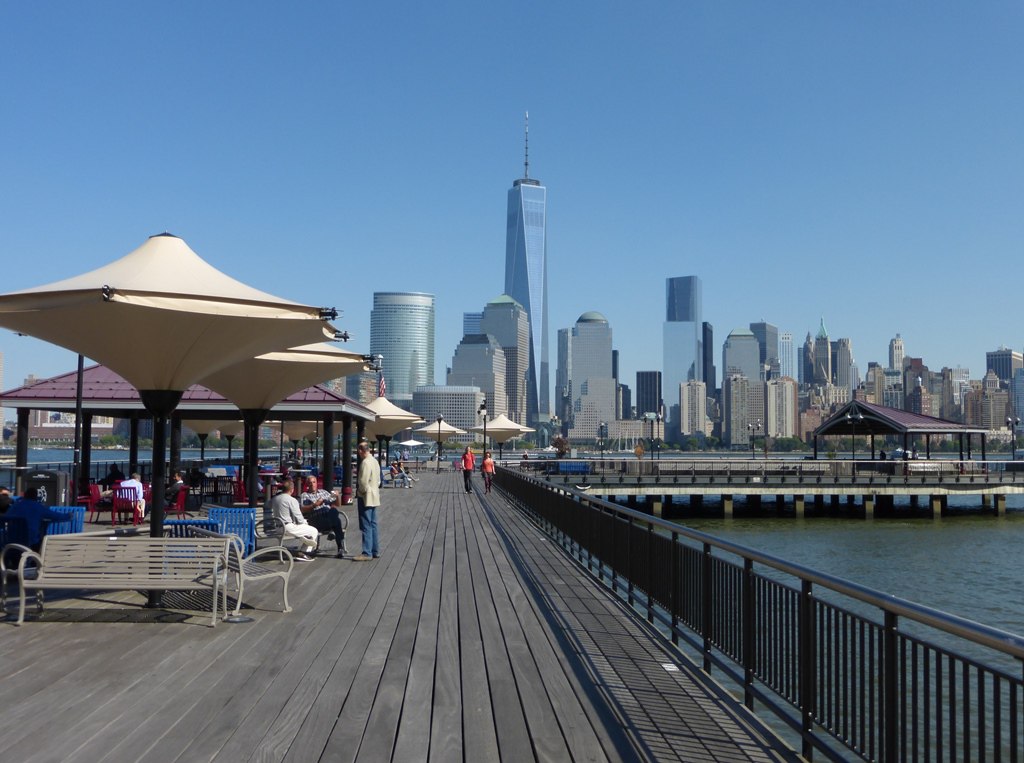 J. Owen Grundy Pier, Jersey City NJ
PLEASE RSVP directly to Raylie Dunkel at raylie@verizon.net. Looking for us? Call Raylie at 201-978-6387.